About Steven Harrison
LATEST NEWS
VERDI AND CATALANI THIS FALL
Steven will be making his role and house debut with the Chicago Opera Theatre singing Carlo in Verdi's rarely heard masterpiece "Giovanna d'Arco!" Chosen by the COT audience as the "People's Chosen Opera" this production is an event to watch. Harrison next flies to the Czech Republic to reprise the role of Hagenbach in "La Wally" by Catalani. Another rarely heard opera which Harrison sang in Duesseldorf's Rhein Opera to tremendous success.
Les Troyens – Deutsche Oper Berlin
Steven will be making his Deutsche Oper Berlin Debut singing Enée in "Les Troyens."
Performance dates are February 21, 24 and March 3, 2013. One of Steven's favorite signature roles, performances of the Berlioz masterpiece will be conducted by Donald Runnicles – David Pountney directs.
Album of the Year
Best Album of the Year in Poland – Category "Opera, Ballet, Operetta" goes to "Chopin" by Giacomo Orefice performed by Opera Wrocławska – Congratulations! A well deserved honor!
Highlights in April – Werther and Fidelio
Steven Harrison is in the U.K. rehearsing "Fidelio" with Opera North appearing as Florestan. Ten performances begin April 14 and here is a glimpseat the movie trailer. Follow Steven's UK experiences as he writes every fortnight for the Opera North blog:
In a production especially created for the tenor, Harrison's performance as "Werther" last month in Prague brought home some special prizes at the Prague Opera Festival. Harrison was one of three singers who took home top honors for "Best Interpretation of a Role!" The production was awarded "Best" of the 10 operas presented over this three-week-long pageant of operas comprising all Czech theatres.
March Highlights!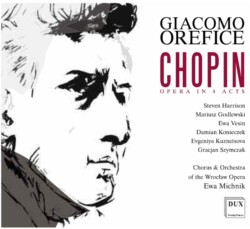 "Chopin"- the opera by Giacomo Orefice has been released on CD! Tenor Steven Harrison sings the title role in a performance which was unanimously praised by European critics! This is a first complete recording of this rare opera – a must for lovers of romantic opera!
March 4, 2011, Harrison sings the title role in "Werther" at Prague's historic Stavovske (Mozart) Theatre. This production was created for Harrison, who is a specialist in interpreting the role of Werther. It will be featured in the prestigious annual Prague Opera Festival.
Immediately following, Harrison will begin rehearsals for Opera North's new production of "Fidelio" singing the role of Florestan in the tenor's U.K. debut. The tenor has previously performed this famously difficult role to sterling critical praise both in Europe and in Asia.
Werther
An interview with international guest tenor, Steven Harrison. This in-depth look at Steven's recent portrayal of the love-struck romantic hero appears in the opera magazine of the National Moravian-Silesian Theatre of Ostrava written by dramaturg Daniel Jäger. Read more…
An English translation of an interview with Czech website opera-puls.blogspot.com can be found here.
Most electrifying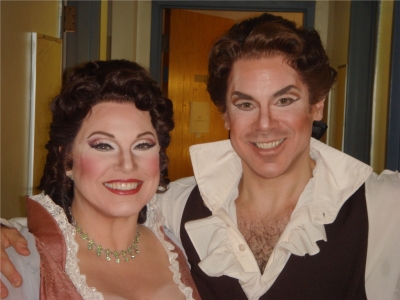 "It was Harrison who was the most electrifying of the entire cast as his clear tenor voice evoked, and was at least the equal of, many of the great tenors of the past. The first act interplay in the church between Tosca and Cavaradossi was especially entertaining and quite funny as it showed that petty jealousies have always existed and will continue to do so."
Taken from Jeffrey Rossman's review of Puccini's Tosca in Raleigh, NC. Read more…
World opera star in Wrocław
Steven speaks with Radio Wroclaw as he prepares for his debut as "Chopin" in an engaging, in depth interview. Learn more about Steven's musical career, his life as an acclaimed international artist across six continents and much more. (Written PDF version, right-click to download)
Audio clip: Adobe Flash Player (version 9 or above) is required to play this audio clip. Download the latest version here. You also need to have JavaScript enabled in your browser.
(Re-published with kind permission of Radio Wroclaw)
He wears Liza Minnelli cuff links and when he performs on all six continents he keeps praising Wrocław for its exceptional cuisine. Listen to the interview with Steven Harrison, last year's Samson, this year's Chopin at the Opera House in Wrocław. He talks about the production which was specially created for the celebration of the greatest Polish composer's 200th birthday.
Audio clip: Adobe Flash Player (version 9 or above) is required to play this audio clip. Download the latest version here. You also need to have JavaScript enabled in your browser.
Audio clip: Adobe Flash Player (version 9 or above) is required to play this audio clip. Download the latest version here. You also need to have JavaScript enabled in your browser.
(Re-published with kind permission of Radio Wroclove)
Please revisit periodically to check in for updates and further latest news!